Firewalla: All-in-one Cybersecurity Firewall Protecting Your Family
$109.99 $129.00
Do you want to take control of your personal network and protect it from cyber threats? Are you tired of ads every time you open a web page? do you want to have control of your kids' internet usage?  
Firewalla is an all-in-solution to these concerns. It is an intelligent shield that connects to your router and secures all of your digital things. It can protect your family from cyber threats, block ads, control kids' internet usage, and even protects you when you are out on public Wifi.
There is no monthly fee.
A Complete Cyber Security Solution
Plug the red Firewalla box into your router, launch our mobile app, and you're ready to go. With just one Firewalla you'll protect every connected device in your home. Our all-device VPN server and ad blocker protects your privacy and offers tools for managing internet usage for everyone in the house, including your kids.
One red box is all you need for complete protection!

Why You Need One
Cyber Security Protection
Cyber threats are all around us. Worried about your baby camera getting hacked? Someone tampering with your smart speakers? Or your phone being used by hackers? Firewalla will automatically alert and protect you from all of these cyber threats, providing peace of mind in the digital world.
Firewalla continuously scans your home for security vulnerabilities and risks.
Firewalla's Intelligent analytics for abnormal behavior warning.
This Firewalla box is a Firewall, IPS, IDS, with added behavior analytics, network management station, all combined into one!
Parenting With Ease
Firewalla lets you see what your kids are doing on his/her tablet. You'll know whether they're playing games, doing their homework, or going somewhere they shouldn't. You won't have to pull the power cord on that dusty router to limit access.
Firewalla provides one-tap turn off control to all devices.

Firewalla automatically notifies you and blocks malicious and adult content.

Firewalla blocks specific activities on any device (for example, block gaming for one hour)
Your Privacy is a Priority
Are you comfortable sharing your data when using Public Wifi?  Or having your browsing habits send to various ad networks?  If not, you need Firewalla.
Firewalla protect your privacy on the road, in coffee shops, or any public Wifi with our built-in VPN server!   You'll access the web just as if you are at home, with the same level of Firewalla protection.
Firewalla blocks annoying ads. Our built-in Adblock feature lets you enjoy an ad-free environment on every single device you use. 
Social Hour
Firewalla lets you take back family time from social networks, one hour at a time. Our "Social Hour" feature blocks all social networks for one hour.
Easy To Install
Up-and-running, as easy as 1-2-3! Zero frustration. No password is required.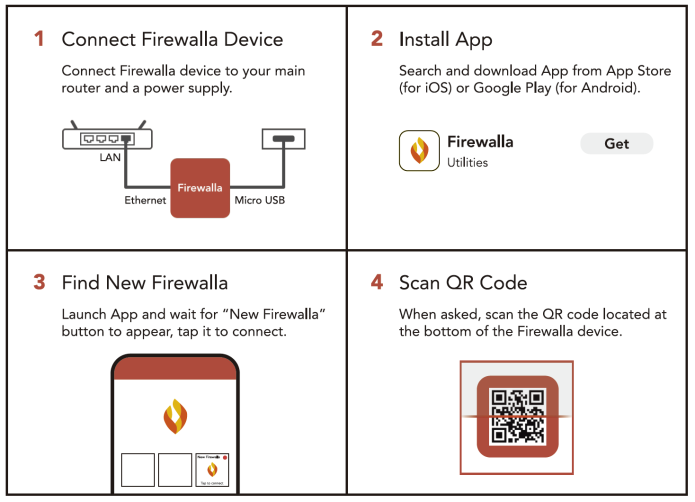 Easy To Use
Cyber security shouldn't be complex and intimidating. Firewalla's features are easy to access on our app – you're just one tap away from protection and control.
One Tap To Turn It On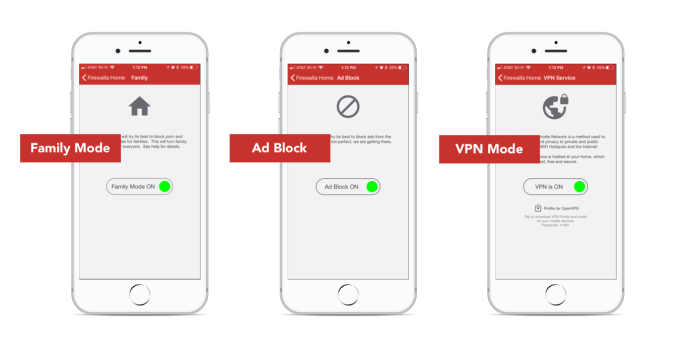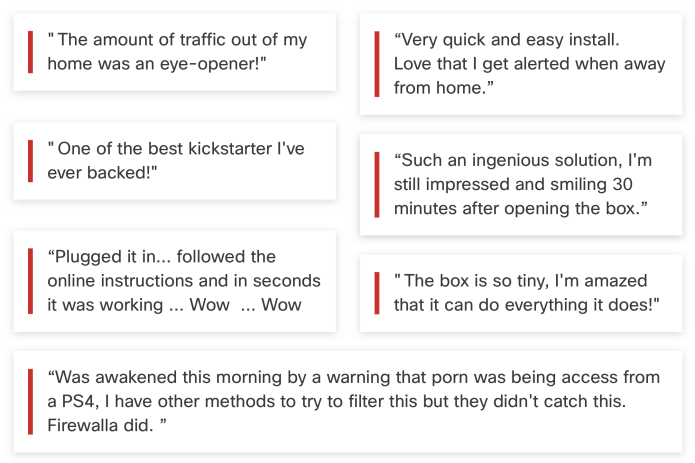 How Does It Work?
Deep Insight
Firewalla lets you know what's going on with all your devices and networks. It can detect activities such as video, gaming, porn, malware and gives you the ability to 'zoom' all the way to specific IP addresses.  
oh yea ... there is a nice looking bandwidth analyzer that can be used to check your internet bandwidth usage,  bandwidth hogs ...

Active Protect
Firewalla utilizes deep insight and a unique cloud-based behavior analytics engine to actively detect problems and automatically block them. Our built-in VPN server automatically protects your privacy when you're on the road.

Always In Control
Firewalla gives you full control of your network; from blocking web pages to cutting off access to devices and even blocking ads. You will always be in control.

Multiple Firewalla's On The Same APP
Do you own a small business, or need to manage multiple networks? Firewalla makes you the Chief Information Officer. Use the Firewalla App to manage multiple Firewalla boxes at a time, right from the Firewalla app.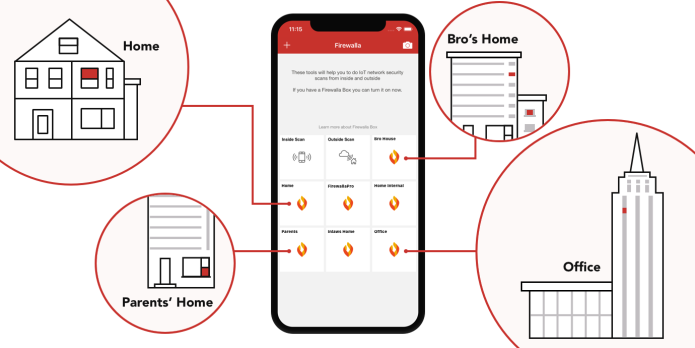 Open And Extensible
Firewalla's open source software lets you know what we are doing with your data.  Our open platform is expandable and future-ready.

Powered by intelligent cloud and love – we protect you, and your family.

Firewalla uses open hardware, this allows us to build the product at much less cost than similar products out there,  which often cost more than 200 dollars plus monthly fee's.  We pass the savings down to you and we don't have a monthly fee either.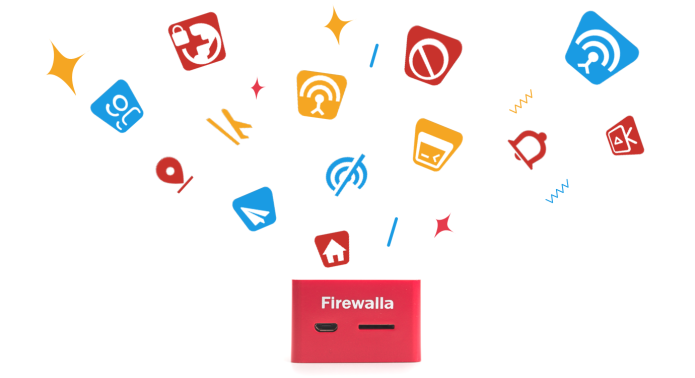 Proud to be "Makers"
We are Makers.  We are proud to get our hands dirty, solving the cybersecurity problem bottom up, outside the control of a big corporation.   For this, firewalla was recently featured as part of the Maker's Showcase from Indiegogo and Brookstone
Running Across 53 Countries
Feature List:
Cybersecurity should be simple, so most Firewalla features are only a couple of taps away. Dive deeper and you'll find even more professional features, including tools for managing multiple devices and controlling network flows, all with complete transparency.  
Cybersecurity features protect all your devices

Parental Control to manage your family's internet access

Content filtering and activity detection
VPN Server
Adblock
DDNS
IPS/IDS
Internal and External vulnerability scans
Bandwidth usage (Monthly / Daily / Hourly)
Device Management
Social Hour
Alarm Management
SSH Shell
One app can control multiple Firewalla boxes
Multiple apps control the same Firewalla box
Track UPNP port usage
Want to know more?  And see how it works?
Firewalla is now available on Amazon USA.  Feel free to order from there. 
Firewalla Specs

Quad-Core 1.0 ghz ARM CPU
100 Mbit Software Packet Processing
512 Megabyte DDR RAM
16GB MicroSD Storage
Router compatibility
App available for iOS and Android

Package Includes:

1 Firewalla Device
1 Ethernet Cable
1 USB Power Cable
Power Adapter (US style only)
One Year manufacturer warranty
Any questions please send us an email: help@firewalla.com
FAQ
Is there a monthly fee?
There is no monthly fee for standard features. In the future, we may provide additional apps or features for pro/business users for a reasonable fee.
Does firewalla support Android and iOS?
Yes and Yes.
Will Firewalla work in my country?
Likely to be yes, we have the box running in 50+ countries.
What's the difference between these units and crowdfunding units?
These units have a 16GB SD card, while the crowdfunding units via Kickstarter and Indiegogo has 8GB. 
Firewalla FREE Shipping?
If FREE shipping is offered, USA (via Amazon), UK, Germany, Netherlands, France and Canada will be FREE.  For other countries, we will charge a minimum fee of around 7 to 12 dollars.
Expedited shipping is offered only to USA/Canada/UK/Germany/France and Netherlands.
Does Firewalla intercept or block traffic?
Yes and Yes. Firewalla also can detect/block malware, porn, gaming, video sites
Firewalla ship internationally?
We do, but the following rules will apply.
We are not responsible for import duties or taxes. 

Firewalla ships with US style power plugs. As an alternative, Firewalla can be powered by most USB ports on the router or any modern mobile phone charger.
Return / Refund Policy
Please see this page.
Have more questions?
Please email us at help@firewalla.com or visit our community https://help.firewalla.com