Firewalla Red: Smart Cyber Security Firewall Appliance Protecting Your Family and Business (Ships Worldwide)
Firewalla Red is no longer available to order; please see

Firewalla is an all-in-one, simple, and powerful firewall that connects to your router.
Protects

 

your devices from cyberattacks
Advanced insights

 

into your network
Safeguards

 

your personal and business data
Dynamic

 

content filtering
Monitors

 

and

 

controls

 

internet usage
Blocks

 

unwanted ads
Built-in

 

VPN

 

server and VPN Client
No Monthly Fee
100 Mb Packet Processing Power
1 YEAR WARRANTY
30 DAYS RETURN POLICY 
A Complete Cyber Security Solution
Plug the red Firewalla box into your router, launch our mobile app, and you're ready to go. With just one Firewalla you'll protect every connected device in your home. Our all-in-one VPN server and ad blocker protects your privacy and offers tools for managing internet usage for everyone in the house, including your kids.
Firewalla is a modern Firewall with IPS and IDS (Intrusion Prevention and Intrusion Detection) functions.  One red box is all you need for complete protection
Plugs into your router, not replacing it!
Dedicated 4 core processors focused only on security.

This is a cybersecurity firewall appliance with more CPU and memory than many high-end consumer routers.

Why You Need One
Do you have a home security system that monitors your windows, doors?  How about motion sensors,  deadbolt locks, or a safe? These protect you in the physical world, but do you have anything guarding your digital world?
"Add a Firewalla to your network and you can see and manage all network devices and their actions. There's lots for techies to love in this tiny box, but even the average user can benefit."  
"Firewalla may be small, but it packs a powerful security punch, automatically blocking a host of network dangers and giving you plenty of handy extras. " 
Cyber Security Protection
Cyber threats are all around us. Worried about your baby camera getting hacked? Or someone tampering with your smart speakers? Or your phone being used by hackers? Firewalla automatically alerts and protects you from all of these cyber threats, providing peace of mind in the digital world.
Firewalla continuously scans your home for security vulnerabilities and risks.
Firewalla's Intelligent analytics provide you with abnormal behavior warning.
This Firewalla box is a Firewall, IPS, IDS, with added behavior analytics, a network management station, all combined into one!
Parenting With Ease
Firewalla lets you see what your kids are doing on his/her tablet. You'll know whether they're playing games, doing their homework, or going somewhere they shouldn't. You won't have to pull the power cord on that dusty router to limit access.
Firewalla provides one-tap turn off control to all devices.

Firewalla automatically notifies you and blocks malicious and adult content.

Firewalla blocks specific activities on any device (for example, blocking gaming for one hour)
Your Privacy is a Priority
Are you comfortable sharing your data when using public Wifi?  Or having your browsing habits send to various ad networks?  If not, you need Firewalla.
Firewalla protect your privacy on the road, in coffee shops, or any public Wifi with our built-in VPN server!   You'll access the web just as if you are at home, with the same level of Firewalla protection.
Firewalla blocks annoying ads. Our built-in Adblock feature lets you enjoy an ad-free environment on every single device you use. 
Social Hour
Firewalla lets you take back family time from social networks, one hour at a time. Our "Social Hour" feature blocks all social networks for one hour.
Easy To Install
Up-and-running, as easy as 1-2-3! Zero frustration. No password is required.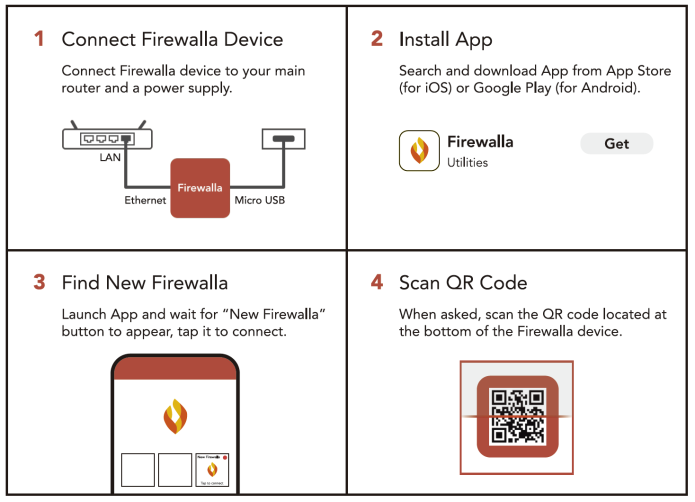 Easy To Use
Cyber security shouldn't be complex and intimidating. Firewalla's features are easy to access on our app – you're just one tap away from protection and control.
One Tap To Turn It On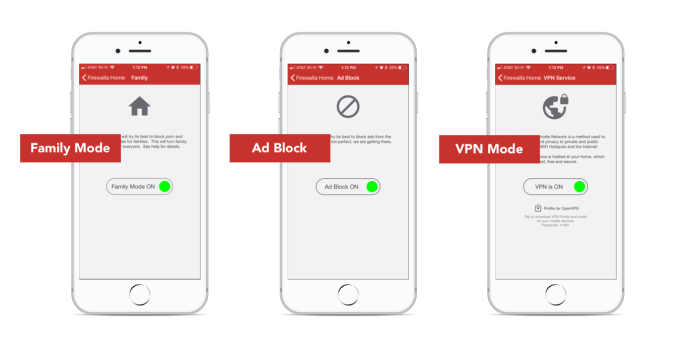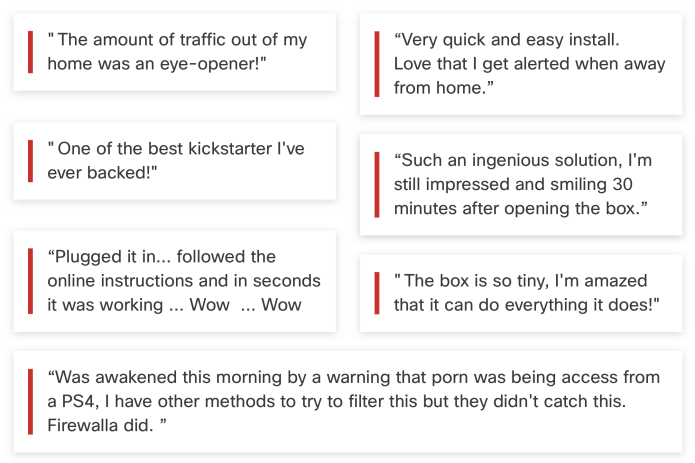 How Does It Work?
Firewalla is a modern Firewall Intrusion Protection System and Intrusion Detection System.  As the security threat landscape changes, Firewalla will actively learn and protect end devices through the assistance of the Firewalla Cloud.  When you or your devices use the internet, all of your traffic will be filtered through the three-stage system:
Deep Insight: Breaks down the traffic and understand what they are.
Active Protect: Intrusion Detection and Prevention, behavior analytics.
In Control:  The rules you set up for Firewalla.
Deep Insight
Firewalla lets you know what's going on with all your devices and networks. It can detect activities such as video, gaming, porn, malware and gives you the ability to 'zoom' all the way to specific IP addresses.  
Oh, yeah ... there is a nice looking bandwidth analyzer that can be used to check your internet bandwidth usage, bandwidth hogs ...

Active Protect
Firewalla utilizes deep insight and a unique cloud-based behavior analytics engine to actively detect problems and automatically block them.  This is the Intrusion Prevention and Detection Stage.

Always In Control
Firewalla gives you full control of your network; from blocking web pages to cutting off access to devices and even blocking ads. You will always be in control.

Multiple Firewalla's On The Same APP
Do you own a small business, or need to manage multiple networks? Firewalla makes you the Chief Information Officer. Use the Firewalla App to manage multiple Firewalla boxes at a time, right from the Firewalla app.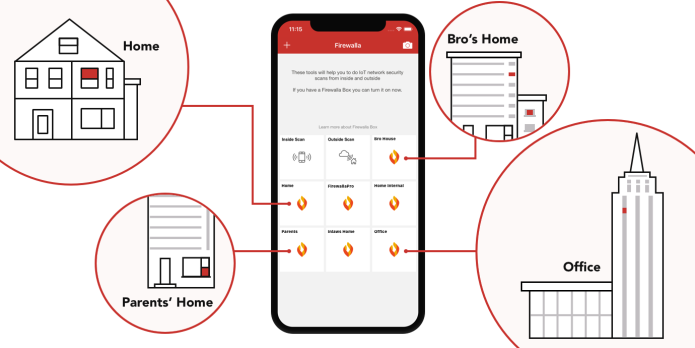 Running Across 100+ Countries
Feature List 
Cybersecurity should be simple, so most Firewalla features are only a couple of taps away. Dive deeper and you'll find even more professional features, including tools for managing multiple devices and controlling network flows, all with complete transparency.  
Cybersecurity features protect all your devices

Parental Controls let you manage your family's internet access

Content filtering and activity detection
VPN Server
Adblock
DDNS

IPS / IDS (intrusion prevention and detection system)

Internal and External vulnerability scans
Bandwidth usage (Monthly / Daily / Hourly)
Device Management
Social Hour
Alarm Management
SSH Shell
One app can control multiple Firewalla boxes
Multiple apps control the same Firewalla box
Track UPNP port usage
Want to know more?  And see how it works?
Firewalla Red Specs

Quad-Core 1.0 GHz ARM CPU
100 Mbit Software Packet Processing
512 Megabyte DDR RAM
16GB MicroSD Storage
Router compatibility
App available for iOS and Android

Package Includes:

1 Firewalla Device
1 Ethernet Cable
1 USB Power Cable
Power Adapter (US style only)
One Year manufacturer warranty
30 days product return
Compare Variations
| | | | |
| --- | --- | --- | --- |
| | | | |
| | 100 Mbits | >500 Mbits | > 3Gbits |
| | 512 MB | 1024 MB | 4096 MB |
| Active Protect Entry | 1000 | 10,000 | 40,000 |
| | 32bit Quad Core ARM 1ghz | 64bit Quad Core ARM 1ghz | 64bit Quad-Core Intel  2.2ghz (AES NI) |
| | 28 Mb | 70 Mb | 120 Mbits |
| | / | / | Yes |
Any questions please send us an email: help@firewalla.com
Power Cable 
Firewalla Red ships with a standard USA power adapter.  If you need an

adapter

that fits your country, please add an international 

adapter

 to your cart before checkout. This option is only available to orders shipping to outside of the USA.
Shipping
Lead time for all shipments is 1 to 2 business days.

USA orders will be shipped from California, shipping time is 3 to 4 business days.

International orders will be shipped from international warehouse.  Standard shipping to the UK is 7 business days.  Standard shipping to other countries is 10 to 15 business days.  Expedited shipping worldwide is 3 to 7 business days.


If you are located outside of the United States, Firewalla Inc is not responsible for import duties, taxes or fees. The shipping charge you pay only covers the freight cost. You assume the responsibility of an importer and are responsible for any duty/tax charges that may incur. We will use couriers like DHL/UPS/FedEx for shipments. Couriers may charge a customs clearance fee or customs handling fee for processing the import declaration. In the event that you refuse paying these charges, you will be denied any refund even if you do not receive the product.



  * Due to covid-19, shipping time can not be guaranteed.


FAQ
Is there a monthly fee?
There is no monthly fee for standard features. In the future, we may provide additional apps or features for pro/business users for a reasonable fee.
Does firewalla support Android and iOS?
Yes and yes.
Will Firewalla work in my country?
Most likely yes, we have Firewalla running in 100+ countries.
What's the difference between these units and crowdfunding units?
These units have a 16GB SD card, while the crowdfunding units via Kickstarter and Indiegogo have 8GB.
Why can't my router do all this?
Routers are optimized to forward traffic, they are not built to do the complex processing required by security.  Don't believe us? See how much memory/storage / CPU cores your router has. 
Your router upgrade the software once a year? Router firmware rarely gets upgraded, while security devices need to upgrade for newer signatures/algorithms/fixes.  Firewalla upgrades monthly!  
What exactly is Firewalla?
In technical terms, it is a Firewall, IPS (intrusion prevention system), IDS (intrusion detection system), Adblocker, VPN all merged into one. 
Does Firewalla intercept or block traffic?
Yes and Yes. Firewalla also can detect/block malware, porn, gaming, video sites
Return / Refund Policy
If you are not happy, return it to us in 30 days, we will give you a full refund.  (shipping is not refundable) Please see this page.
Have more questions?
Please email us at help@firewalla.com or visit our community https://help.firewalla.com